Ministry of Electronics and Information Technology
Visvesvaraya PhD Scheme for Electronics & IT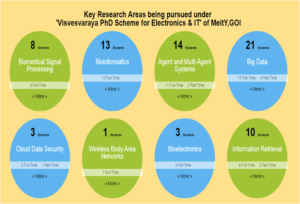 Ministry of Electronics and Information Technology (MeitY), Government of India has launched "Visvesvaraya PhD Scheme for Electronics and IT" with an objective to enhance the number of PhDs in Electronics System Design and Manufacturing (ESDM) and IT/IT Enabled Services (IT/ITES) sectors in the country.
Cabinet Committee on Economic Affairs (CCEA) has approved the scheme in 2014 for a period of nine years.
Salient features of the PhD Scheme are as follows:
Give thrust to R&D, create an innovative ecosystem and enhance India's competitiveness in these knowledge intensive sectors.
To fulfill the commitments made in NPE 2012 and NPIT 2012.
Support to 1500 PhD Candidates including both Full-Time (500) and Part-Time(1000) in each of ESDM and IT/ITES sectors (Total: 3000 PhDs).
Support 200 Young Faculty Research Fellowships in the areas of ESDM and IT/ITES with the objective to retain and attract bright young faculty members in these sectors.
The scheme is also expected to encourage working professionals and non-PhD faculty members to pursue PhD.
Digital India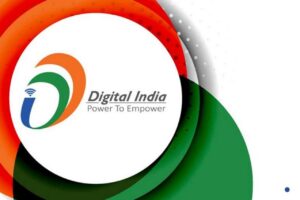 Digital India is a campaign launched by the Government of India to ensure the Government's services are made available to citizens electronically by improved online infrastructure and by increasing Internet connectivity or by making the country digitally empowered in the field of technology.
The initiative includes plans to connect rural areas with high-speed internet networks. Digital India consists of three core components: the development of secure and stable digital infrastructure, delivering government services digitally, and universal digital literacy.
The Digital India programme, launched in July 2015, has changed the narrative of India. Interventions like the BharatNet digital cable network have pushed digital connectivity to rural areas with 3,12,526 km of cable being laid over the last five years.
To ensure the seamless delivery of digital services, a growing network of 3.10 lakh common service centres (CSCs), covering some 2.15 lakh gram panchayats, are providing more than 300 digital services ranging from insurance and pensions to banking and digital payments.
CSC also undertake social awareness programmes such as the Stree Swabhiman Mission for improving menstrual health in rural areas, acting as both advocates and providers of low-cost sanitary napkins.
Today, with mobile apps like Unified Mobile Application for New-Age Governance (UMANG), more than 300 government services and schemes are available in the palm of every citizen. Through services such as tele-medicine and tele-law, medical and legal advice are available to every citizen. Services like e-hospital and online registration allow citizens to schedule appointments in top referral hospitals without any hassle.
The e-scholarship portal, with 184.44 lakh applicants, has made availing scholarships easier for students. Similarly, citizen-centric services like Jeevan Pramaan, e-Vahan and e-Challan save time and undue harassment. About 22 crore soil health cards (SHC) and the e-National Agricultural Market (eNAM), linking 585 agricultural mandis in 16 states, help farmers increase productivity.
Schemes for promoting business process outsourcing (BPO) have resulted in 268 BPO units being set up in more than 125 small towns in the last four years. The ITITeS industry provides employment to 40 lakh people directly and 1.2 crore people indirectly, having added more than six lakh jobs in the last five years.
A skilling and re-skilling programme through the National Institute of Electronics and Information Technology's (NIELIT) 700 affiliates provides arange of industry-oriented vocational training programmes.
The National Policy on Software Products 2019, generating domestic intellectual property and promoting innovation and R&D, is expected to generate 35 lakh jobs by 2025 in the software sector. To ensure privacy of data of citizens, adraft data privacy Bill has been prepared after wide public consultations.
A public domain name system (DNS) service providing an extra layer of resilience to the cyber network has also been launched.
Common Service Centers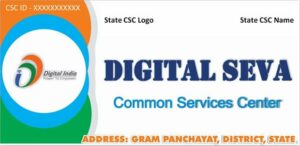 Common Services Centre (CSC) programme is an initiative of the Ministry of Electronics & IT (MeitY), Government of India. CSCs are the access points for delivery of various electronic services to villages in India, thereby contributing to a digitally and financially inclusive society.
CSCs are more than service delivery points in rural India. They are positioned as change agents, promoting rural entrepreneurship and building rural capacities and livelihoods. They are enablers of community participation and collective action for engendering social change through a bottom-up approach with key focus on the rural citizen.
CSC e-Governance Services India Limited is a Special Purpose Vehicle (CSC SPV) incorporated under the Companies Act, 1956 by the Ministry of Electronics and Information Technology (MeitY), Government of India, to monitor the implementation of the Common Services Centers Scheme. It provides a centralized collaborative framework for delivery of services to citizens through CSCs, besides ensuring systemic viability and sustainability of the scheme.
The CSCs would provide high quality and cost-effective video, voice and data content and services, in the areas of e-governance, education, health, telemedicine, entertainment as well as other private services. A highlight of the CSCs is that it will offer web-enabled e-governance services in rural areas, including application forms, certificates, and utility payments such as electricity, telephone and water bills.
The reach and effectiveness of CSCs are being utilised to deliver other social welfare services such as the Pradhan Mantri Jan Arogya Yojana (PMJAY) and the Pradhan Mantri Shram Yogi Maan-Dhan (PMSYM), where more than two crore and 15 lakh beneficiaries have been registered respectively so far.
CSC 2.0 is a service delivery oriented entrepreneurship model with a large bouquet of services made available for the citizens through optimum utilization of infrastructure already created in the form of SWAN, SSDG, e-District, SDC, and NOFN/BharatNet.
These privately run CSCs encourage grassroots entrepreneurship. About 55,000 CSCs are operated by women and, in total, these have generated about 12 lakh employment opportunities in rural and semi-rural areas.
CSCs have also helped expand digital access by implementing the world's largest digital literacy programme, the Pradhan Mantri Gramin Digital Saksharta Abhiyan (PMGDISHA), where 1.45 crore people have been imparted basic digital training with the eventual target being six crore.
Unified Mobile Application for New-age Governance (UMANG)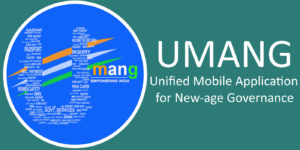 Unified Mobile Application for New-age Governance (UMANG) provides a single platform for all Indian Citizens to access pan India e-Gov services ranging from Central to Local Government bodies and other citizen centric services.
UMANG intends to provide major services offered by Central and State Government departments, Local bodies and other utility services from private organizations. It provides a unified approach where citizens can install one application to avail multiple government services.
UMANG is a Digital India initiative of Ministry of Electronics and Information Technology (MeitY).
Key Features Include:
UMANG provides seamless integration with popular customer centric services like Aadhaar and Digilocker.
It provides a unified approach where you can install one application to avail multiple government services.
UMANG can be accessed on multiple channels like mobile application, web, IVR and SMS which can be accessed through smartphones, feature phones, tablets and desktops.
UMANG has a rich multimedia interface with a focus on maximizing usability and enriching user experience
UMANG supports 12 major Indian languages in addition to English.
Users can register for the UMANG app using their: Mobile Number / Aadhaar Number.
Pradhan Mantri Gramin Digital Saksharta Abhiyan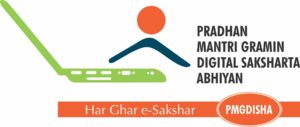 The Government has approved a scheme titled "Pradhan Mantri Gramin Digital Saksharta Abhiyan (PMGDISHA)" to usher in digital literacy in rural India by covering 6 crore rural households (one person per household) .
It is meant to ensure equitable geographical reach, each of the 2,50,000 Gram Panchayats would be expected to register an average of 200-300 candidates.
Special focus of the said Scheme is on training the beneficiaries on use of Electronic Payment System.
The outcome measurement criteria would include undertaking at least 5 electronic payments transactions by each beneficiary using UPI (including BHIM app), USSD, PoS, AEPS, Cards, Internet Banking.
It is being implemented as a Central Sector Scheme by the Ministry of Electronics & Information Technology through an implementing agency namely CSC e-Governance Services India Limited, with active collaboration of all the State Governments and UT Administrations
Stree Swabhiman Mission
This service intends to provide employment to at least 8-10 women. Common Service Centres is empowering its women entrepreneurs, not only to provide sanitary pads at their centres but also to educate women of their society to overcome this social taboo and encourage the usage of sanitary pads.
It shall provide unit for manufacturing Bio-degradable, eco-friendly sanitary pads at CSC units.
The project focuses on training and establishing a sanitary napkin unit for women and girls to promote menstrual hygiene and to support village level entrepreneurs and SHG groups.
The intervention proposes to create ongoing livelihood options for 35000 women who will be engaged in the manufacturing process by developing their own entrepreneurial ventures at their CSC Centre.
The product (sanitary napkin) will be sold under local brand name and marketed by VLEs(Village Level Entrepreneurs (VLEs).
The project also has a menstrual hygiene related awareness generation component and aims to increase usage of sanitary napkins among rural girls in schools and colleges by making the napkins available at the schools.
National Optical Fibre Network (NOFN) and  Bharath Net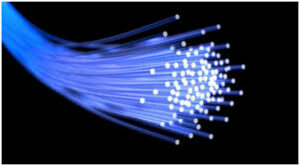 National Optical Fibre Network (NOFN) is an ambitious initiative to trigger a broadband revolution in rural areas. NOFN was envisaged as an information super-highway through the creation of a robust middle-mile infrastructure for reaching broadband connectivity to Gram Panchayats.
The National Optical Fibre Network (NOFN) aims to connect all the 2,50,000 Gram panchayats in the country and provide 100 Mbps connectivity to all gram panchayats (GPs). To achieve this, the existing fibres of PSUs (BSNL, Railtel and Power Grid) were utilised and incremental fibre was laid to connect to Gram Panchayats wherever necessary. Dark fibre network thus created was lit by appropriate technology thus creating sufficient bandwidth at the Gram Panchayats.
The traditional meaning of Dark Fibre refers to unused or 'dark' network infrastructure that is a mixture of cabling, switches and repeaters. Data is transported over optical fibre networks by passing light through the cables. If there is no data being transported, there is no light – this means that the fibre is 'dark'. Dark Fibre is essentially optical fibre infrastructure that is not in use.
Non-discriminatory access to the NOFN was provided to all the service providers like Telecom Service Providers (TSPs), ISPs, Cable TV operators and Content providers to launch various services in rural areas.
The NOFN project was funded by the Universal Service Obligation Fund (USOF).
Universal Service Obligation Fund (USOF) USOF was formed by the Central Government to help fund projects to boost connectivity in rural areas. The money for this fund comes through a 'Universal Access Levy,' charged from the telecom operators as a percentage of various licenses fees being paid by them
Based on NOFN experiences, newer, updated and upgraded version – BharatNet was conceived as a nation-wide broadband network.
BharatNet
BharatNet is a project of national importance to establish, by 2017, a highly scalable network infrastructure accessible on a non-discriminatory basis, to provide on demand, affordable broadband connectivity of 2 Mbps to 20 Mbps for all households and on demand capacity to all institutions, to realise the vision of Digital India, in partnership with States and the private sector.
The entire project is being funded by Universal service Obligation Fund (USOF), which was set up for improving telecom services in rural and remote areas of the country. The objective is to facilitate the delivery of e-governance, e-health, e-education, e-banking, Internet and other services to the rural India.
National Scholarships Portal
National Scholarships Portal is one-stop solution through which various services starting from student application, application receipt, processing, sanction and disbursal of various scholarships to Students are enabled. National Scholarships Portal is taken as Mission Mode Project under National e-Governance Plan (NeGP). Currently, the NSP has 9 participating ministry/departments and 21 registered schemes.
The initiative aims at providing a Simplified, Mission-oriented, Accountable, Responsive & Transparent 'SMART' System for faster & effective disposal of Scholarships applications and delivery of funds directly into beneficiaries account without any leakages.
National e-Governance Plan
The National e-Governance Plan (NeGP), takes a holistic view of e-Governance initiatives across the country, integrating them into a collective vision, a shared cause. Around this idea, a massive countrywide infrastructure reaching down to the remotest of villages is evolving, and large-scale digitization of records is taking place to enable easy, reliable access to the internet.
Further, with a vision to transform e-Governance for transforming Governance and keeping in view the need to utilize emerging technologies such as Cloud and Mobile Platform and focus on the integration of services, the Government has proposed to implement "e-Kranti: National e-Governance Plan (NeGP) 2.0" under the Digital India programme.
e-Kranti Scheme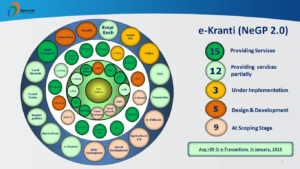 The mission of e – Kranti is to ensure a Government wide transformation by delivering all Government services electronically to the citizens through integrated and interoperable systems via multiple modes while ensuring efficiency, transparency and reliability of such services at affordable costs.
The objectives of 'e-Kranti' are as follows:
To redefine NeGP with transformational and outcome-oriented e-Governance initiatives
To enhance the portfolio of citizen centric services
To ensure optimum usage of core Information & Communication Technology (ICT)
To promote rapid replication and integration of e-Governance applications
To leverage emerging technologies
To make use of more agile implementation models
Thrust areas of e-Kranti outlined in Digital India
Technology for Education – e-Education – All schools will be connected to broadband. Free WiFi will be provided in all secondary and higher secondary schools (coverage would be around 250,000 schools). A programme on digital literacy would be taken up at the national level. Massive Online Open Courses (MOOCs) shall be developed and leveraged for e-Education.
Technology for Health – e-Healthcare – e-Healthcare would cover online medical consultation, online medical records, online medicine supply, pan-India exchange for patient information, etc.
Technology for Farmers – This would facilitate farmers to get real-time price information, online ordering of inputs and online cash, loan, and relief payment with mobile banking.
Technology for Security – Mobile based emergency services and disaster-related services would be provided to citizens on a real-time basis so as to take precautionary measures well in time and minimize loss of lives and properties.
Technology for Financial Inclusion – Financial inclusion shall be strengthened using mobile banking, Micro-ATM program and CSCs/ Post Offices.
Technology for Justice – Interoperable Criminal Justice System shall be strengthened by leveraging several related applications, i.e. e-Courts, e-Police, e-Jails and e-Prosecution.
Technology for Planning – National GIS Mission Mode Project would be implemented to facilitate GIS based decision making for project planning, conceptualization, design and development.
Technology for Cyber Security – National Cyber Security Co-ordination Centre would be set up to ensure safe and secure cyber-space within the country.
Jeevan Pramaan
Jeevan Pramaan is Aadhar based Digital Life Certificate for Pensioners. It was launched November 2014.
It is expected to benefit over a crore pensioners. Jeevan Pramaan will do away with the requirement of a pensioner having to submit a physical Life Certificate in November each year, in order to ensure continuity of pension being credited into their account.
Jeevan Praman has been developed by the Department of Electronics and IT, Government of India.
Jeevan Praman software can be downloaded from https://jeevanpramaan.gov.in/ for both PC and Android Devices. Jeevan praman certificate can be obtained from software by putting beneficiary fingerprint or iris authentication.
India BPO Promotion Scheme (IBPS)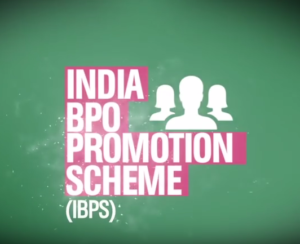 The India BPO Promotion Scheme (IBPS) , envisaged under Digital India Programme, seeks to incentivize establishment of 48,300 seats in respect of BPO/ITES operations across the country.
It is distributed among each State in proportion of State's population with an outlay of Rs. 493 Crore. This would help in capacity building in smaller cities in terms of infra & manpower and would become basis for next wave of IT/ITES led growth.
Salient Features
Financial Support: Up to 50% of expenditure incurred on BPO/ITES operations towards capital expenditure (CAPEX) and/or operational expenditure (OPEX) on admissible items, subject to an upper ceiling of Rs. 1 Lakh/Seat.
Special incentives toward employment of women & specially enabled persons.
Incentive for generating employment beyond target & wider dispersal within state including rural areas.
Encouragement for local entrepreneurs.
Special consideration for Hilly states of HP, J&K and UK.
This scheme has potential to create employment opportunities of around 1.5 lakh direct jobs considering three shift operations. It may also create good number of indirect jobs.
National Policy on Software Products – 2019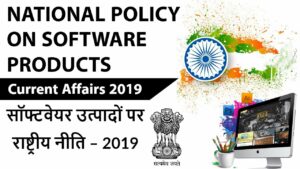 The Policy will lead to the formulation of several schemes, initiatives, projects and measures for the development of Software products sector in the country as per the roadmap envisaged therein.
To achieve the vision of NPSP-2019, the Policy has the following five Missions:
To promote the creation of a sustainable Indian software product industry, driven by intellectual property (IP), leading to a ten-fold increase in India share of the Global Software product market by 2025.
To nurture 10,000 technology startups in software product industry, including 1000 such technology startups in Tier-II and Tier-III towns & cities and generating direct and in-direct employment for 3.5 million people by 2025.
To create a talent pool for software product industry through (i) up-skilling of 1,000,000 IT professionals, (ii) motivating 100,000 school and college students and (iii) generating 10,000 specialized professionals that can provide leadership.
To build a cluster-based innovation driven ecosystem by developing 20 sectoral and strategically located software product development clusters having integrated ICT infrastructure, marketing, incubation, R&D/testbeds and mentoring support.
In order to evolve and monitor scheme & programmes for the implementation of this policy, National Software Products Mission will be set up with participation from Government, Academia and Industry.
Domain Name Server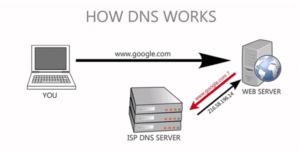 Ministry of Electronics & IT is planning to launch public domain name system (DNS) server for India to provide faster and more secure browsing experience to internet users in the country.
This will ensure that the citizens' data is stored locally and also protect them from malware or phishing attacks.
India's Public DNS, as an inherent feature, would ensure fast access, enhanced availability, secure access, maintain data privacy and data localization within India and will be one of the key components to ensure Internet Resilience.
The new DNS will be placed across the country to minimise outage and would be available round the clock. Users can simply use it by typing the IP number into the Internet browser.
The Centre has also launched a new email platform for all government employees including those in states and Union Territories.
The NIC is currently using the public DNS within the government network.
The government has said users will be free to shift to the India public DNS.
Web browsers interact through Internet Protocol (IP) addresses. DNS translates domain names to IP addresses so browsers can load Internet resources.
Each device connected to the Internet has a unique IP address which other machines use to find the device. DNS servers eliminate the need for humans to memorize IP addresses such as 192.168.1.1 (in IPv4)
The process of DNS resolution involves converting a hostname (such as www.example.com) into a computer-friendly IP address (such as 192.168.1.1).