Ministry of Minority Statistics Skills
Ministry of Minority Affairs
Cyber Gram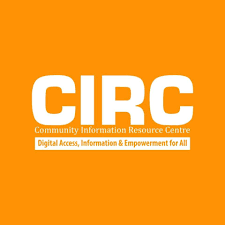 The Cybergram Initiative is a component under Multi-Sector Development Program (MsDP) of the ministry of minority affairs.
The Union Government and State Government contribution will be 75:25 (90:10 for NE states including Sikkim)
Common Service Centres e-Governance services India Ltd (CSC SPV) will prescribe thirty-nine (39) hours Basic Computer Concepts (BCC) syllabus for the training.
The Village Level Entrepreneur VLEs (having computers and internet availability) near Madrasas/Schools would be the lowest level in the implementation structure of the Initiative and would be the Training Centre under the Initiative.
The Multi-sectoral Development Programme (MsDP) aims at improving the socio-economic conditions of minorities and providing basic amenities to them for improving the quality of life of the people and reducing imbalances in the identified minority concentration areas.
Jiyo Parsi scheme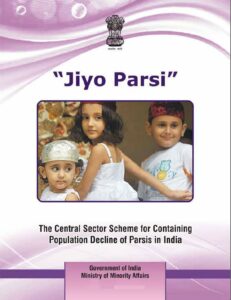 Jiyo Parsi aims to increase the Parsi population, which stands at 57,000. As many as 172 babies have been born under its schemes since 2013.
The Jiyo Parsi initiative launched Jiyo Parsi Care with three schemes to remove impediments that come in the way of Parsi couples from bearing at least two children.
The schemes include a crèche and child care support for couples within a certain income bracket, an honorarium for senior citizens for child care, and a financial support to couples who have elderly dependents living with them.
The schemes are part of the third phase of the initiative, which started in 2013, providing assisted reproductive technology to Parsi couples wishing to have a child. For the third phase, Jiyo Parsi has secured a ₹12 crore grant from the Central government.
Nai Roshni For Leadership Development Of Minority Women
The objective of the scheme is to empower and in still confidence among the minority women, including their neighbours from other communities living in the same village/locality, by providing knowledge, tools and techniques for interacting with Government systems, Banks and other Institutions at all levels.
The leadership development training scheme shall be implemented by the Ministry of Minority Affairs through selected organisations.
The organisation shall be provided financial assistance for implementation of the scheme. The rates may vary according to the area of operation, fees charged by the training institutes, boarding cost etc. The total number of trainees per batch would be 25 women (maximum).
Women belonging to all minorities notified under Section 2 (c) of the National Commission for Minorities Act, 1992 Muslims, Sikhs, Christians, Buddhists and Zoroastrians (Parsis)
Efforts will be made to persuade Elected Woman Representatives (EWRs), from any community, under the Panchayati Raj Institutions to be included as a trainee.
Usttad- Upgrading The Skill And Training In Traditional Art Craft For Development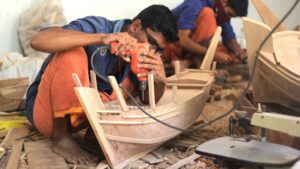 It is a Central Sector Scheme
Features:
Upgradation of skills and Training through Certificate and Diploma Courses in traditional Arts/Crafts through training institutions.
Training on soft skills, spoken english and IT will also be provided.
More than one member of the family is eligible to gain benefits.
USTTAD apprenticeship stipened for R&D will be provided
Exhibition/Marketing of their products will be done through Hunar Haat and Shilp Utsav.
Talented master craftsmen/artisan will be recognized and awarded.
Hunar Haat
Hunar Haats are organised by Ministry of Minority Affairs under USTTAD scheme. These Haats provide platforms for marketing the products of master artisans, craftsmen and culinary experts belonging to the minority communities.
Hence, increases the employment and income generation opportunities of the minority communities. Ministry is willing to establish a "Hunar Hub" in all states of the country where artisans will be provided training, as per present requirement.
Nai Manzil
It is an integrated scheme of education and skill. A Non-residential programme of 9-12 months duration involving a Basic Bridge Programme (For Class VIII or Class X) is provided.
Minimum 30% seats are earmarked for minority girls.
The scheme covers the entire country.
World Bank supports the scheme.
The women trained under "Nai Roshni", scheme for leadership development of Minority women, will also be used as mobilizers for this scheme.
Padho Pardesh
This is a Central Sector Scheme intended to award interest subsidy to meritorious students belonging to economically weaker sections of notified minority communities so as to provide them better opportunities for higher education abroad and enhance their employability.
The interest Subsidy shall be linked with the existing Educational Loan Scheme of Indian Banks' Association (IBA)
35% seats will be earmarked for girl students.
The scheme shall be available to the eligible students only once, either for Masters, M.Phil or Ph.D levels.
This is an interest subsidy scheme and the Candidate will have to bear the Principal installments and interest beyond moratorium period (Course period)
Intended Beneficiaries:
Students enrolled for course at Masters, M. Phil and Ph.D levels abroad
Girl students
NAI UDAAN
The scheme is intended to provide financial support to the minority candidates clearing prelims conducted by Union Public Service Commission, Staff Selection Commission and State Public Service Commissions and increase the representation of the minority in the Civil Services and Group A and B services.
Features of the Scheme:
This is a Central Sector Scheme • Every year up to 2000 candidates will be given financial support under the scheme throughout the country on fulfilling the eligibility criteria till the budgetary allocation is exhausted.
Financial support will be availed by candidate for one time only
Selection of the candidates will be based on first-come-first- serve basis
The distribution of slots for different minorities is based on the data of Census, 2011.
Manas-Maulana Azad National Academy For Skills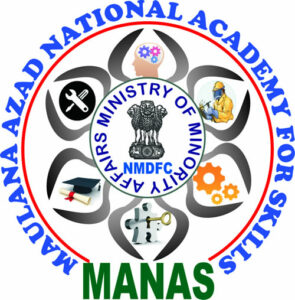 It is a special purpose vehicle and is an innovative scheme (kind of Give back to community) under which the leading celebrities in various skill sets are used as the driving force behind the skill development projects, in their respective fields
It has identified and launched Skill Development Programme in various Madarsas and other traditional Educational Institutions (TEIs)
The trained candidate will be provided financial assistance from NMDFC (National Minorities development and Finance Commission), if they are willing to establish their own business.
Objectives:
To provide gainful employment/selfemployment to minorities
To cater to all Skill up-gradation/Skill Development needs of Minority communities in India. It aims at providing them training in all those skills which are determined by the current & future market demand, focusing primarily on increasing their self-employment potential, by setting-up / up-grading their business enterprises.
MANAS will establish 'Research Chairs' to support the arts and crafts of minority community which are going to phase out due to globalisation & in the process, help in preserving 'Hamari Dharohar'.
Hamari Dharohar
Hamari Dharohar A scheme to Preserve Rich Heritage of Minority Communities of India
It is a central sector scheme
Ministry of Minority Affairs will implement this scheme with the help of Ministry of Culture.
Documentation of oral traditions and art forms, support to ethnic museums, workshops/ seminars/exhibitions, fellowship for R&D, etc will be provided under the scheme.
The funding is project based and not the Sate/District-wise.
Digitisation of Medieval documents regarding Mathematics and Medicine is also being done
Learn And Earn (Seekho Aur Kamao)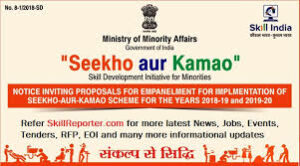 Objectives:
To encourage the youth from the minority communities to take up employment based skills training  and to bring down the unemployment rate of minority communities.
To conserve and update traditional skills of minorities and establish their linkages with market
To improve employability of existing workers, school dropouts and to ensure their placements.
Features:
This a Central Sector scheme
It has two components:
a) Placement Linked skill training program for modern trades
b) Skills training program for traditional art forms/crafts/trades
The skill training for modern skills must result in 75% placement, out of which 50% should be in organised sector
It is a PPP based scheme, and priority will be given to institutions which guarantee 75% placements.
SHGs will be created
Mahila Samriddhi Yojana
Objective of the scheme is for economic empowerment of the trainee women so that they ultimately become independent and can move out of the confines of their homes and take benefits from the development of country.
It is being implemented by National Minorities Development & Finance Corporation (NMDFC)
Training is given to a group of around 20 women in any suitable women friendly craft activity such as tailoring, cutting and embroidery, etc.
This group has to form a SHG. After the training, micro-credit (max. 1 Lakh at 7% interest) is provided to the members of the SHG so formed.
Ministry Of Petroleum And Natural Gas
Pradhan Mantri Ujjwala Yojana (Pmuy)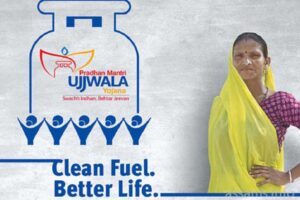 The scheme intended to provide 8 Crore (earlier target was 5 crore) deposit free LPG connections to women from BPL households to be achieved by 2020 (earlier target year was 2019).
Any Below Poverty Line (BPL) family, whose information is included in the district BPL list prepared by the State government can avail the benefits.
LPG Connection is released in the name of adult woman of the BPL Family, subject to the condition that no LPG connection exists in the name of any family member of the household.
Central Government will provide financial support of Rs 1600 for each LPG connection.  SECC (Socio Economic and Caste Census) data will be used to confirm eligibility.
The scheme has been expanded to cover all SC/ST households, beneficiaries of Antyoday Anna Yojana (AAY), PMAY (Gramin), forest dwellers, most backward classes (MBC), Tea and Ex-Tea Garden Tribes, people residing in Islands and rivers etc. in addition to SECC identified households.
Consumers will have the option to purchase gas stove and refills on EMI (zero interest), recovered through LPG subsidy received by the beneficiary. No recovery of loan is effecting for initial 6 refills.
Pratyaksh Hanstantrit Labh (PAHAL)
It is the world's largest cash subsidy (added to Guinness Book of world records) under the Direct Benefit Transfer Scheme.
Domestic LPG cylinders will be sold to LPG consumers in the entire country at Market Determined Price (without subsidy). An advance payment will also as soon as a person books the first cylinder, to ensure that he has enough money to buy it at market price.
The total cash benefit applicable on LPG cylinder will then be transferred to the CTC (Cash Transfer Compliant) consumer for each subsidized cylinder delivered (up to the cap) as per his entitlement.
LPG consumers who do not wish to avail the LPG subsidy for LPG cylinders can simply choose to opt out of subsidy.
Consumers needs to have a bank account to receive the subsidy. This is facilitated by Jan Dhan. Also seeding the account with AADHAAR is manadatory for getting the benefits.
Direct Benefit Transfer In Pds Kerosene (DBTK) Scheme
Similar to PAHAL, the consumer will pay the non-subsidized price of kerosene at the time of purchase.
The amount of subsidy will be directly transferred to the bank account of the beneficiary.
An initial amount of subsidy shall be credited to all eligible beneficiaries to avoid any inconvenience during the initial nonsubsidised purchase.
Implementing States will be given fiscal incentives equivalent to 75 % of subsidy saved in the first two years, 50 % of subsidy saved in third year and 25 % of subsidy saved in 4th year.
Further, States/ UTs are encouraged to become `Kerosene Free' by brining all households under LPG.
Pradhan Mantri Lpg Panchayat Scheme
The panchayat will be used as a backup for PMUY to distribute LPG connections among rural areas where conventional fuel is used for domestic purposes.
It will resolve issues and wrong traditional beliefs among people against LPG through officials of oil PSUs, NGOs, Asha workers and other social workers.
It is an interactive communication platform for rural LPG users on various subjects like safe usage of LPG, its benefit to environment, women empowerment and women health, and also use the forum to motivate the consumers to use LPG regularly as a clean cooking fuel.
Start-Up Sangam Initiative
The broad objective is to reduce fuel import dependence through innovations in alternative fuels.
New business models and marketing plans will be developed and innovations in heavy oil and gas industry sector will be done by supporting 30 startups.
The selected start-ups will work in various energy fields such as converting waste plastics to petroleum fuels, solar stove, multipurpose fuel from agricultural waste biomass and leak detectors for liquefied natural gas (LNG) cylinders etc.
Various PSUs like IOCL, ONGC, BPCL, GAIL and Engineers India ltd. have contributed to make a corpus of 320 crore towards this.
Pradhan Mantri Urja Ganga/National Gas Grid
This is a gas pipeline project aimed to have a gas based economy and to enhance the share of gas in the energy basket to 15%.
Under this project additional 15,000 km of gas pipeline network will be developed in Eastern India.
The project originates at Jagdishpur (Uttar Pradesh). The main trunk of pipeline ends to Haldia (West Bengal) and Dhamra (Odisha).
Hence, piped cooking gas will be available to residents of Varanasi and later to millions of people in UP, Bihar, Jharkhand, West Bengal and Odisha. The project is being implemented by state-run gas utility
SAKSHAM 2019
Saksham (Sanrakshan Kshamta Mahotsav) is an annual flagship event of Petroleum Conservation Research Association (PCRA) under the aegis of Ministry of Petroleum & Natural Gas, Government of India.
Saksham actively involves the Oil & Gas PSUs along with other stakeholders like State Governments,
To create focused attention on fuel conservation through people centric activities and
To sensitize the masses about the conservation and efficient use of petroleum products leading to better health and environment.
Ministry Of Road Transport & Highways
Bharatmala Pariyojana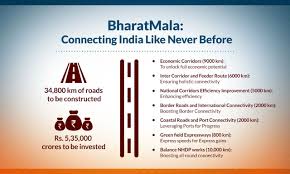 It is an Umbrella program for the highways sector that focuses on optimizing efficiency of freight and passenger movement across the country by bridging critical infrastructure gaps.
Bharatmala Project category:
Economic Corridor o Feeder Route or Inter Corridor
National Corridor Efficiency Improvement
Border Road and International Connectivity
Port Connectivity and Coastal Road
Green Field Expressway o Balance NHDP Works.
Enhanced focus on improving connectivity in North East and leveraging synergies with Inland Waterways.
Special attention to fulfill the connectivity needs of backward and tribal areas, areas of economic activity, places of religious and tourist interest, trade routes with neighbouring countries etc.
National Highways Authority of India (NHAI) has launched Logistic Efficiency Enhancement Programme (LEEP) under Bharatmala Pariyojna which aimed to enhance the freight transportation in India through improving cost, time, tracking and transferability of consignments through infrastructure, procedural and Information Technology (IT) interventions.
National Highways Authority of India has created a National Highways Investment Promotion Cell (NHIPC) for attracting domestic and foreign investment for highways projects.
The cell will focus on engaging with global institution investors, construction companies, developers and fund managers for building investor participation in road infrastructure projects. It will help to raise funds for investment of Rs. 5,35,000/- crores required under 'Bharatmala Pariyojana'.
Setu Bharatam
The scheme iss intended for Development of bridges for safe and seamless travel on National Highways and to make all National Highways free of railway level crossings by 2019.
208 Railway Over Bridges (ROB)/Railway Under Bridges (RUB) will be built at the level crossings at a cost of Rs. 20,800 crore as part of the programme
Also, about 1500 old and worn down bridges will also be improved by replacement/widening/strengthening in a phased manner at a cost of about Rs. 30,000 crore.
Ministry Of Shipping
SAGARMALA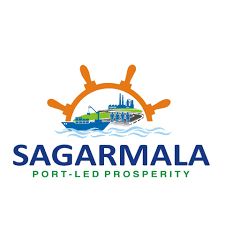 Sagarmala project was launched by the Government of India with the broad objectives of promoting port-led direct and indirect development and to provide infrastructure for transportation of goods to and from ports quickly, efficiently and cost-effectively.
Therefore, the project aims at developing access to new development regions with intermodal solutions and promote optimum modal split, enhanced connectivity with main economic centres and beyond, through expansion of road, rail services, coastal and inland water services.
The scheme is intended to promote port-led development in the country through harnessing India's 7,500 km long coastline, 14500 km of potentially navigable waterways and strategic location on key international maritime trade routes.
In order to execute the last mile connectivity rail connectivity and internal rail projects of the Major Ports more effectively and efficiently a Special Purpose Vehicle (SPV) – The Indian Port Rail Corporation (IPRC) is incorporated under the Companies Act 2013, under the administrative control of the Ministry of Shipping.
National Sagarmala Apex Committee chaired by Minister of Shipping will provide overall policy guidance and approve National Perspective plan.
Three pillars of development under Sagarmala Project are:
Port-led development through appropriate policy and institutional interventions and providing for an institutional framework for ensuring inter-agency and ministries/departments/states' collaboration for integrated development.
Port Infrastructure enhancement – including modernization of existing ports and setting up of new ports.
Efficient evacuation to and from hinterland.
Coastal Berth Scheme under Sagarmala:
It aims to provide financial support to ports or state governments for creation of infrastructure for movement of cargo and passenger by sea or national waterways.
MINISTRY OF SKILL DEVELOPMENT AND ENTREPRENEURSHIP
Pradhan Mantri Yuva Yojana
It will provide entrepreneurship education and training to over 7 lakh students in 5 years (till 2020-21) through 3050 Institutes: 2,200 Institutes of Higher Learning (Universities, Colleges, Premier Institutions and AICTE Institutions including Polytechnics); 300 schools (10+2); 500 Industrial Training Institutes (ITIs) and 50 Entrepreneurship Development Centres (EDCs).
 It also aims to
Educate and equip potential and early stage entrepreneurs by developing and deliver entrepreneurship education to all citizens free of charge through Massive Open On – line Courses (MOOCs) and other on – line programmes.
Support entrepreneurs through Entrepreneurship Hubs (E – Hubs) by establishing a National Entrepreneurship Resource and Coordination Hub to coordinate and support entrepreneurship development programmes.
Connect entrepreneurs in enabling networks of peers, mentors, funds and business services through a web based online marketplace
Catalyze a culture shift to encourage entrepreneurship
Pradhan Mantri Kaushal Vikas Yojana (PMKVY)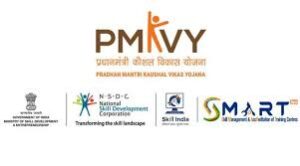 Individuals with prior learning experience or skills will also be assessed and certified under Recognition of Prior Learning (RPL).
The Short-Term Training imparted at PMKVY Training Centres (TCs) is expected to benefit candidates who are either school/college dropouts or unemployed. Training will be imparted according to the National Skills Qualification Framework (NSQF).
Upon successful completion of their assessment, candidates shall be provided placement assistance by Training Partners (TPs).
Training and Assessment fees are completely paid by the Government.
This skill certification scheme will be implemented through the National Skill Development Corporation (NSDC).
Under the relaunched PMKVY, which started October 2, 2016 placement tracking has been made mandatory.
An initiative has also been taken to set up Model Skill Centres called Pradhan Mantri Kaushal Kendras (PMKKs), in districts.
YUVA
It is a skill development programme and an initiative by Delhi Police in a tie up with National Skill Development Corporation (NSDC) and Confederation of Indian Industry (CII) under PMKVY to connect with youth by upgrading their skill as per their competencies.
Skills Acquisition And Knowledge Awareness For Livelihood Promotion (SANKALP)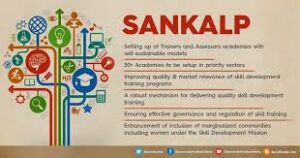 It is an outcome-oriented project supported by World Bank
It has been designed to operationalize the sub-missions under the National Skill Development Mission.
It is a centrally sponsored scheme.
It envisages setting up of:
National Skill Certification Body
National Accreditation board and National Skill Research Division within National Skill Development Agency.
Development of Labour Market Information System o Kaushal Mart as a Skilling Resource Marketplace offering a credible platform for exchange of skilling resources of different kinds.
Takshila as National Portal for trainers and assessors
A Skills Fund has been provisioned under SANKALP with an aim to set up industry lead and job-oriented skill training institutions. It shall be set up as competitive challenge fund that shall provide verifiable and reliable use of grants (subject to maximum ceiling per project) for a long term, sustainable, impact at a local community/ province/ national level.
India International Skill Centers (IISC) are being set up to train for overseas placements.
Skill Strengthening For Industrial Value Enhancement (STRIVE)
It is a Rs. 2,200 crore – central sector scheme, with half of the scheme outlay as World bank loan assistance.
It is an outcome focused schemes marking shift in government's implementation strategy in vocational education and training from inputs to results.
It shall incentivize ITIs to improve overall performance including apprenticeship by involving SMEs, business association and industry clusters.
National Apprenticeship Promotion Scheme
Objectives of the scheme include promoting apprenticeship training and incentivize employers who wish to engage apprentices and Increasing the engagement of apprenticeship from 3 Lakhs to 50 Lakhs cumulatively by 2020.
NAPS has provision for sharing of expenditure incurred in both providing training and stipend to the apprentice.
Reimbursement of 25% of prescribed stipend subject to a maximum of Rs. 1500/- per month per apprentice by the Government of India to all employers who engage apprentices.
Sharing of the cost of basic training in respect of fresher apprentices (who come directly for apprenticeship training without formal training) limited to Rs. 7500/- per apprentice for a maximum duration of 500 hours/3 months.
It will be implemented by Director General of Training (DGT)
Ministry Of Statistics And Programme Implementation
Members Of Parliament Local Area Development Scheme (MPLADS)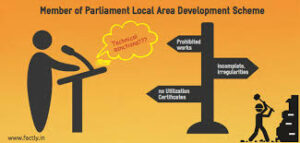 The MPLADS is fully funded by Government of India. The annual MPLADS non-lapsable fund entitlement per MP constituency is Rs. 5 crore.
Lok Sabha Members can recommend works within their Constituencies and Elected Members of Rajya Sabha can recommend works within the State of Election (with select exceptions).
Nominated Members of both the Rajya Sabha and Lok Sabha can recommend works anywhere in the country.
MPs are to recommend every year, works costing at least 15 per cent of the MPLADS entitlement for the year for areas inhabited by Scheduled Caste population and 5 per cent for areas inhabited by S.T. population.
In the event of "Calamity of severe nature" in any part of the country, an MP can recommend works up to a maximum of Rs.1 crore for the affected district. Whether a calamity is of severe nature or not, will be decided by the Government of India.
If an elected Member of Parliament finds the need to contribute MPLADS funds to a place outside that State/UT, or outside the constituency within the State, or both, the MP can recommend eligible works up to a maximum of Rs. 25 lakh.