Goal of the programme:


Maximise your outcome with the right guidance. The stress is on relevance and accuracy. Achieve a score of 150-170+ in each paper.
DETAILS: 
This test includes 5 Sectional, 3 revision and 4 Comprehensive tests with evaluation, mentoring and model answer and value addition notes.
Mode- Both Online and Offline
Number of tests: 12 Tests 
Test starting date: As per your choice


Evaluated answer script will be given within 10 days  

Value addition materials included 

Timetable- see below 

Mentorship by: DrArjun Bopanna sir
Batch: 2022 Mains
Venue: Bangalore IAS Academy (Hebbal/Vijayanagar/Chandra layout)

Validity of test series: December 2022

Number of seats- 30 only 

Contact: 96327-57615

Offline & Online students can contact sir after evaluation for doubts clearing and feedback through email or scheduled phone call.
To watch Dr Arjun sir's class video and quality: Click here
To watch Rajesh Ponnappa IPS Rank – 222 – Click here
Why should you take anthropology test series? Click here
To join the test series:  Click here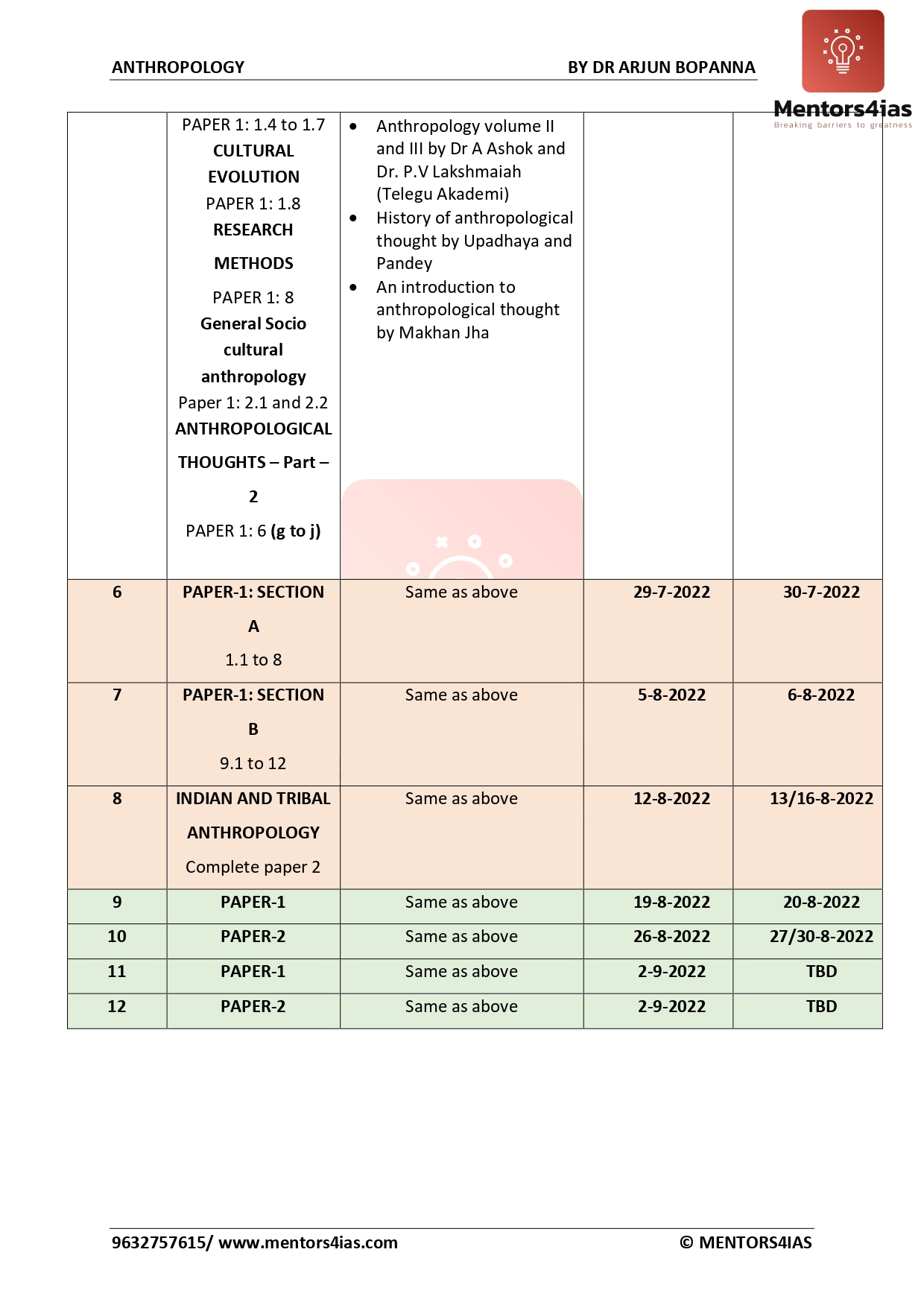 Reference Materials:
We do not recommend you to change your preparation source at this point of time. You can stick to your class notes/standard texts which you have been referring. Below are the sources that we recommend to our students. 
Primary source:
Paper 1:
Paper 2:
Secondary source:
An introduction to anthropological thought by Makhan Jha: Click here
Outline of Physical anthropology by B.M Das: Click here
Anthropology by Ember and Ember: Click here
* Please note- the above list is what we believe is best for the exam. Individual discretion and research is recommended before you buy these books.